The Ebenezer House Bed & Breakfast offers charming chalet-style lodging in the foothills of the Blue Ridge Mountains. This quaint and historic wooden home boasts a unique story of its own. The home was once located in Culpeper, Virginia, where it served as the Ebenezer Methodist Church starting in 1901. The building was left abandoned for many years until 1984, when Robert Gordon, a well-known cabinet and furniture joiner, decided to adopt the home as his next project. He took the building apart, moved it to its current location on 3 acres of property in Madison, and then rebuilt it from scratch. That makes the building nearly 120 years old! See photos of how the building was re-assembled. The Ebenezer House gives its guests the rare opportunity to stay at a place that was taken apart, moved to an entirely new location, and rebuilt from the foundation up.
The Ebenezer House is located in a lush wooded stretch of land near the rushing Rapidan River in Madison, Virginia. Guests fall in love with its beautiful collection of antiques, its unique spiral staircase, and its well-stocked personal library. If you can say anything about Ebenezer House, it's that the place has character. Guests love to lounge on one of the several decks and porches, where they can relax while reading a book, sipping tea, or watching a sunset. You might even spot some deer wandering around the wooden grounds. The Ebenezer House is a relaxing escape from busy Washington, D.C or a fun and welcoming addition to any Virginia vacation.
The Ebenezer House is a pet- and child-friendly property. The welcoming and friendly environment at Ebenezer House will make all members of the family, canine or otherwise, feel right at home. Your pets will have lots of room to roam on the 3 acres of lush wooded grounds. Ebenezer House will even arrange a dog sitter while you are touring the region's wineries or historical sites. One of the B&B's premier attractions is Sweetie, the in-house parrot known for shaking guests' hands or taking a seat on their shoulders.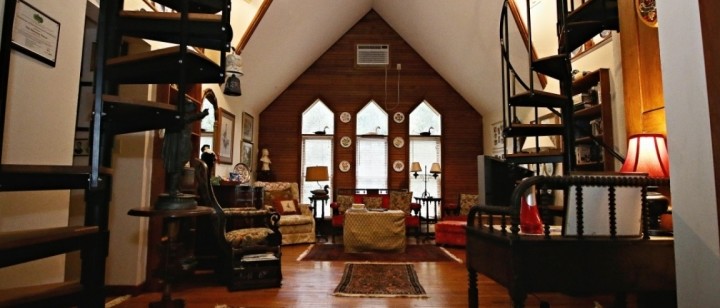 As part of the greater Charlottesville area, Ebenezer House is located near many of Virginia's most notable attractions. With its location right off Route 29, you will have easy access to Charlottesville, Madison, Culpepper, Greene, Orange, and Abermarle. You will find many historic sites near the Ebenezer House, including museums, presidential homes, cemeteries, and Civil War battlefields. You'll be 20 minutes away from James Madison's Montpelier and about 40 from Thomas Jefferson's Monticello. Special bonus: You can get discounted rates to these sites if you purchase tickets at the hotel.
The Ebenezer House is also conveniently situated on the famous Virginia Wine Trail. Virginia boasts a rich wine history, dating all the way back to Thomas Jefferson's failed attempt to start a vineyard back in the early 19th century. Your stay at the Ebenezer House grants you free wine tasting tours at several excellent Virginia wineries, including Barboursville, Old House Vineyards, Horton Vineyards, Keswick Vineyards, Early Mountain Vineyards, and more. There are also many excellent breweries, cider houses, and distilleries nearby for those who aren't oenophiles. If you are on the adventurous side, you can go river rafting down the Rapidan River, explore the ten miles of hiking, biking, and horseback riding trails at Peddy Creek Park or explore the breathtaking vistas of Shenandoah National Park. The Ebenezer House is located in the foothills of the Blue Ridge Mountains, so it offers a wealth of opportunities for the outdoor explorers in your family.
With its convenient location, welcoming atmosphere, and unique history, the Ebenezer House is a beloved choice for all sorts of travelers exploring Virginia. During your next trip here, why not check out the character and charm of this distinctive property for yourself?
Planning a trip to Virginia? Book a stay at the Ebenezer House Bed & Breakfast for a charming and convenient lodging experience.
Try the free CSS tidy lets you easily beautify stylesheets for your websites.