The Inn at Meander Plantation is a historic bed & breakfast located in the heart of Virginia wine country. Situated on 80 beautiful acres in the foothills of the Blue Ridge Mountains, the Inn at Meander Plantation offers fine dining, modern luxury, and Southern elegance, all in one place. Stepping foot on our grounds is like stepping back in time. The plantation was built in 1776, making it as historic as it is beautiful. With its rich history, pastoral landscape, and warm hospitality, the Inn at Meander Plantation captures the true essence of Virginia.
The plantation was renovated in 1992 but boasts a long and storied history dating as far back as 2000 B.C. Archaeologists have discovered remains of spears and arrowheads from Native Americans on the grounds. Many hotels and bed & breakfasts call themselves historic, but few of them have a history that dates back quite so far. Those interested in more recent history will find the Inn at Meander Plantation equally fascinating. American icons like Thomas Jefferson, George Washington, and General Lafayette often visited the property and many battles were fought near the property during the Civil War. The plantation even housed the well-known Union official Colonel Baynard. One hundred and fifty years later, the plantation is now an elegant bed & breakfast that has been selected one of the Top 5 Bed & Breakfasts in America for 2017 by the World Property Journal and ranked as one of the South's Best Bed & Breakfast by Fodors.
Many guests at the property confess to experiencing special sensations we have nicknamed "Meander Moments." Meander Moments can happen at any time and they often happen more than once. You might feel it when you drive up the long, scenic driveway and glimpse the plantation for the first time, or when you are watching the sunset over the Blue Ridge Mountain from a comfortable chair on the lawn. They can happen as you are enjoying a glass of wine on the lovely wrap around porch, or reading a book by the fire in their spacious living room, or taking a stroll through one of the boxwood gardens. Meander Moments are one of those things you can't anticipate or plan. They just happen, and once they do, you will never forget them.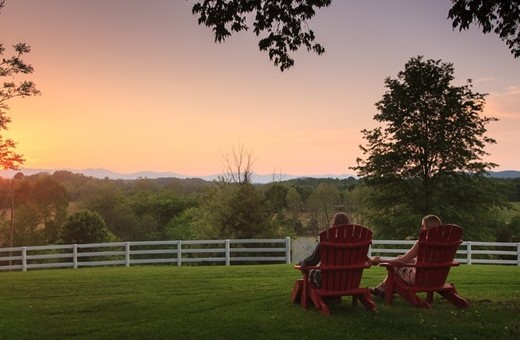 The Inn at Meander Plantation is well-known as a romantic wine country escape for anyone looking to tour the region's many world-class vineyards. The plantation is located just a short drive away from some of the region's most famous wineries, including Barboursville Vineyards, Reynard Florence Vineyard, Early Mountain Vineyards, Ducard Vineyards, and more. Virginia has been ranked one of the top 10 wine producing regions in the world, so it is certainly worth exploring while you are here. Consider the Wine Weekend Getaway Package and enjoy tasting coupons to several nearby wineries along with a fruit and cheese tray, a picnic for two, and their signature three-course dinner in the plantation restaurant.
Choose from ten lovely and well-appointed rooms & cottages, each individually decorated to capture the history and character of Virginia wine country. The Inn at Meander Plantation serves a delicious three-course breakfast every morning and offers a gourmet, Southern-inspired dinner in their elegant, plantation-style restaurant.
When you aren't relaxing at the plantation or tasting delicious wine, there are plenty of things to do nearby. Explore Shenandoah National Park, or the quaint nearby towns of Culpeper and Orange. You can also visit historic sites, such as James Madison's Montpelier and Thomas Jefferson's Monticello and many Civil War battlefields. If you aren't a big wine drinker, the plantation is also located near many excellent breweries and distilleries.
The Inn at Meander Plantation encapsulates the perfection of any Virginia getaway: wine country, rich history, and Southern charm. This elegant rural getaway is perfect for rest, relaxation, and romance. What Meander Moment will you share with us?
Planning a trip to Virginia? Book a stay at the Inn at Meander Plantation and experience a Meander Moment for yourself!
This document has been composed with the instant HTML edior tools. Click here and test it for free.